Ploppy Palace & Love The Everglades Movement present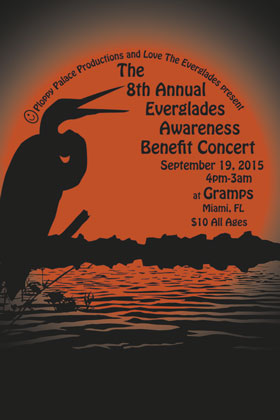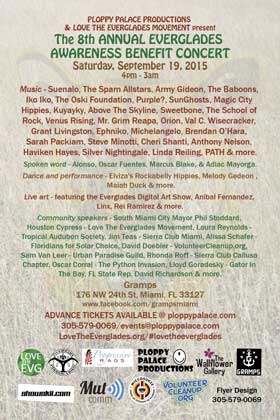 click flyer image to enlarge
2015 Benefit - Sponsors

Click on our
sponsors' logos
(above) for more information.
The Everglades Awareness Benefit needs your help!
Love The Everglades Movement is a platform for people to connect and protect the Everglades. We are currently preparing for the 2015 Summer Symposium: The Rights of The Water on Sat, Aug 22 and the 8th Annual Everglades Awareness Benefit Concert on Sat, Sep 19 and we require public support. Your donations provide the resources for Love The Everglades Movement to build up these current projects and lay the groundwork for more grassroots activism! We are doing community work that requires some unique production expenses and we need help to cover these costs! Please share this message with others. Thanks!

Please donate here: www.gofundme.com/LoveTheEverglades
Everglades Awareness Benefit Concert Information
Event features live music and painting, spoken word, an art exhibition, guest speakers and vendors, with all proceeds to be donated to Love the Everglades Movement
The Everglades Awareness Benefit Concert Series is an interactive gathering to share and voice concerns about our ecosystem. This is not a simple show - we are part of a movement that supports protecting our natural resources and human rights! We are working to strengthen our grassroots network and engage members of our community as we work to stop overdevelopment and political corruption! The exploitation of the Everglades effects us all and we need to recognize the damage of oil drilling, fracking and Turkey Point as major issues. We are advocating for more solar usage - this makes sense in the Sunshine State!

At the same time this event will be very entertaining, positive and fun! We can talk about serious issues with informative speakers while enjoying music, spoken word, dance, live art and good people. This is an all ages event because we want to reach out to young people and families. We strive to inspire involvement and participation. Together we make things happen, so join the fun and spread the word!

https://www.facebook.com/events/857162487653327/

Thank you all for your effort!
Flash

Houston Cypress on Love The Everglades Movement
7th Annual Everglades Awareness Benefit Photographs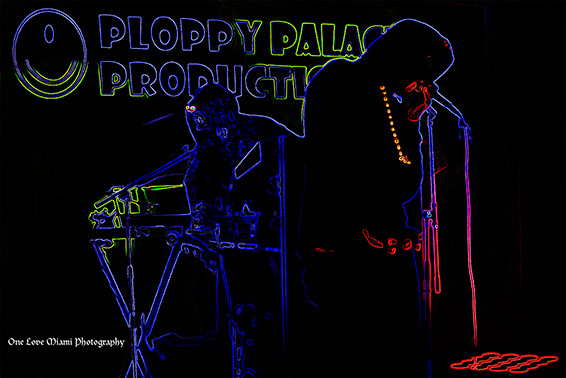 See 177 photographs (images by One Love Miami Photography) of the 7th Annual Everglades Awareness Benefit in May, 2014 at 7th Circuit Productions!
Flash recommends visiting the following website: