Love the Everglades Movement's Summer Symposium

The symposium will be held on Saturday August 22, 2015, from 9:30am to 5:00pm at the Miccosukee Resort & Convention Center ballroom on the second floor. The address is 500 SW 177 th Ave, Miami, Florida 33194.

Love The Everglades Movement is working with advocates and community organizations to create an educational conference and plan actions. At the symposium, a series of speakers from around South Florida and beyond will share their expertise on the Everglades. We will provide up-to-date information on the issues and share resources so you can participate.

Read more
Everglades Awareness Benefit Concert Information
Event features live music and painting, spoken word, an art exhibition, guest speakers and vendors, with all proceeds to be donated to Love the Everglades Movement
The Everglades Awareness Benefit Concert Series is an interactive gathering to share and voice concerns about our ecosystem. This is not a simple show - we are part of a movement that supports protecting our natural resources and human rights! We are working to strengthen our grassroots network and engage members of our community as we work to stop overdevelopment and political corruption! The exploitation of the Everglades effects us all and we need to recognize the damage of oil drilling, fracking and Turkey Point as major issues. We are advocating for more solar usage - this makes sense in the Sunshine State!

At the same time this event will be very entertaining, positive and fun! We can talk about serious issues with informative speakers while enjoying music, spoken word, dance, live art and good people. This is an all ages event because we want to reach out to young people and families. We strive to inspire involvement and participation. Together we make things happen, so join the fun and spread the word!

https://www.facebook.com/events/857162487653327/

Thank you all for your effort!
Flash

2014 Benefit - Sponsors
Please check out our sponsors by clicking their logo below:

16th Annual T-shirts now available
Check out this t-shirt from the recent benefit Medical Marijuana Benefit Concert. Only $15!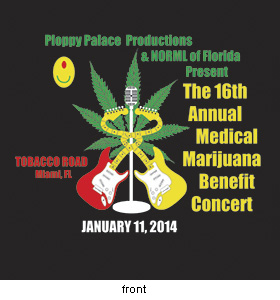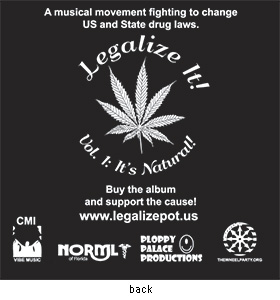 Flash recommends visiting the following website:

Symposium Information
Protecting our natural resources is a concern for us all. Love the Everglades Movement is providing the community with a platform for education and action. Now we need YOU to participate and be part of the solution.
This is a great educational opportunity. We encourage teachers, students, artists, community leaders, entrepreneurs, and anyone interested to attend. This is a free event and open to the public. If you care about the Everglades, it is worth the effort to get involved!
Love the Everglades Movement is publishing all presentations and discussions through a variety of media platforms to contribute to the global discussion on Everglades and environmental matters.
This year the symposium's goals are to:
1. Articulate the moral imperatives that motivate action to restore the Everglades;
2. Engage various communities in environmental issues and actions;
3. Provide networking opportunities between individuals, communities, and organizations;
4. Provide information on environmental, political, social, and spiritual concerns regarding Everglades restoration, water contamination, land use, and indigenous
rights.
Day 1 of the symposium will be at the Miccosukee Resort & Convention Center, with additional activities in the evening.
Lunch on Day 1 will be courteously provided by our Event Sponsor: the Miccosukee Tribe of Indians of Florida.
On Day 2, we will meet at Florida International University's Modesto A. Maidique Campus, where we will work on practical solutions in small groups with targeted goals.
For Registration and Details of Summer Symposium 2015, please visit:
http:// www.lovetheeverglades.org/ summer-symposium-2015.html
Please let us know what you as individuals and your organizations are doing in our community. We appreciate your involvement. Together we make good things happen for the Everglades! Thank you for your effort and support!
Nuff Respect,
Coordination Circle
Love the Everglades Movement
www.LoveTheEverglades.org
www.facebook.com/ lovetheeverglades
LoveTheEverglades@gmail.com