Everglades Awareness Benefit Concert Information
On Saturday, May 10, 2014 Ploppy Palace Productions and The Miccosukee Tribe will be hosting a concert to raise awareness and funds for Everglades protection and public education. As part of this three stage extravaganza, some of South Florida's top bands, spoken word artists and community activists will join together to raise awareness for this vital natural resource.

There will be musical performances by Sweetbone, Franklin's Wheel, Teri Catlin, Kuyayky, Val C. Wisecracker, Grant Livingston, Anthony Nelson and many more.

Spoken word by Alonso, Oscar Fuentes and others.

Dance by Elviza, Alina and others.

Community speakers include South Miami City Mayor Phil Stoddard, Houston Cypress from Love The Everglades Movement and other concerned citizens.

In addition there will be an Environmental Art Exhibition featuring a selection of distinctive artists including Thomas Daniel Burnikel, Kiro Fox Ace, Eva Ruiz, Lauranda Hook and others.

Submissions for the exhibition are still accepted. If you are interested in participating in this community showcase, please send images to gallery@mokshafamily.org - thanks!


MISSION STATEMENT

The Everglades Awareness Benefit Concert Series is a platform for individuals and organizations to engage the community about environmental issues and find solutions to help protect the Everglades ecosystem and our water supply. For this family friendly event, we are reaching out to other businesses, governmental agencies, various organizations and the community to become more aware and more active. This event features a diverse mix of entertainment, environmental artwork, community speakers, information booths and local vendors. We utilize art activism to highlight the environmental content within the various performances and presentations - this format opens the message and expands the chorus of voices working for positive changes.

OBJECTIVES

* Engage a wide variety of communities and interests through discussions that articulate what their particular concerns are as it relates to use of natural or human resources that impact the Everglades ecosystem

* Invite minority, or under-represented, communities and perspectives to the forum to share their experiences and concerns

* Engage the local community

* Establish common goals and offer positive solutions to address the problems

* Present a holistic, or comprehensive, perspective on the ways that society interacts with the Everglades ecosystem (industry, agriculture, commercial, cultural, spiritual, etc.)

* Present information on Everglades matters from the following perspectives: science & technology, policy and law, cultural use, history, art

* Discuss threats to environmental sustainability that are not addressed by current projects (L-28 Interceptor Canal & CEPP)

* Create connections between local and national organizations working on Everglades matters

* Generate media attention and public interest

* Raise funds for local organizations that support the Everglades

* Provide commercial opportunities for local vendors and artisans

Currently, the Everglades is one of the most threatened natural habitat in the western hemisphere. Residential development, water management and agricultural use have shifted natural water patterns and have altered the vitality of the ecosystem. With an alarming number of people moving into South Florida every year, we need to come together and help to protect the Everglades for our survival.

There will be information booths from Love The Everglades Movement and other organizations.

In addition there will be vendors and small businesses promoting and selling their merchandise, including The Wallflower Gallery, the Moksha Boutique and others.

The 7th Annual Everglades Awareness Benefit Concert at 7th Circuit Productions is sponsored by Ploppy Palace Productions and The Miccosukee Tribe.
For more information check out our Facebook event page.
Flash
Funk Finder, Ploppy Palace Productions
305-579-0069
Ploppy Palace & The Miccosukee Tribe present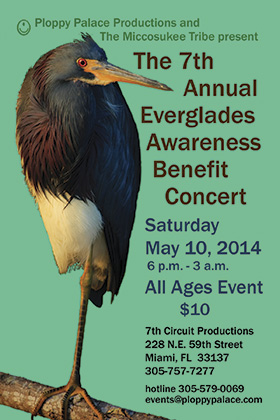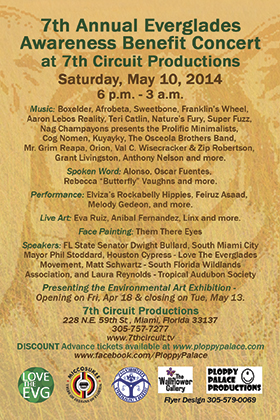 click image to enlarge
16th Annual T-shirts now available
Check out this t-shirt from the recent benefit Medical Marijuana Benefit Concert. Only $15!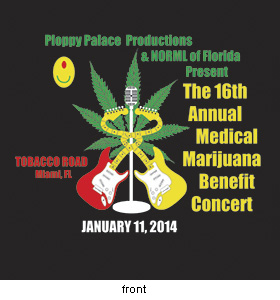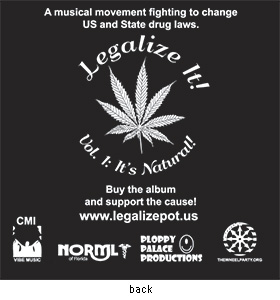 Flash recommends visiting the following websites: