A Special Thanks!
Thank you for participating in the 16th Annual Medical Marijuana Benefit Concert! This year we have brought the issue to a vote in November.
As we work to clean up and assess the impact of the Benefit Concert, I would like to get some feedback from those who attended to see what you thought we did well and where we can improve. I am also interested to hear from those who saw the event streaming - how was the event from your perspective?
The streaming was a very new element and it really came together last minute - hopefully it had a positive impact and showed the dynamic energy of the event. Every year we work to make the event that much stronger and we work to reach more people. I think we reached more people through Facebook and on other websites, but we still did not reach beyond in attendance like we anticipated. I think we did have a good amount of people and those who were there seemed to have a good time. I just want this event to do better, so let's see how we can make it happen.
So stay involved in the process. Be vocal and educate others. We will make a difference! Hope to see you at the celebration event next year!
Flash
Funk Finder, Ploppy Palace Productions
305-579-0069
16th Annual T-shirts now available
Check out this t-shirt from the recent benefit concert. Only $15!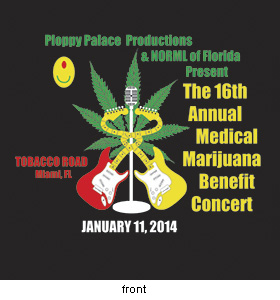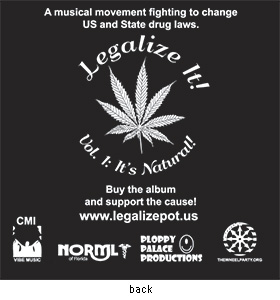 2014 Event Press Release
HOSTED BY PLOPPY PALACE PRODUCTIONS AND NORML OF FLORIDA

    On Saturday, January 11, 2014 Ploppy Palace Productions and NORML of Florida will be hosting the 16th Annual Medical Marijuana Benefit Concert at Tobacco Road.  This event will raise funds for NORML of Florida's (National Organization for the Reform of Marijuana Laws), Patients Out Of Time's, United For Care's and The Silver Tour's medical marijuana campaign and the protection of patients' rights.  Currently there is a statewide campaign to change the medical marijuana laws in Florida that includes legislation in the Florida House and Senate as well as a statewide petition drive.  As part of this three stage extravaganza, some of South Florida's top bands, spoken word artists and community activists will join together for patients' and physicians' right to use medical cannabis.

As a testament to the diversity of supporters for this cause, there will be a broad variety of musical styles including jazz, rock, reggae, folk, vocal harmonies, hip-hop, funk, experimental, tribal rhythms, traditional Peruvian, world beat fusion, psychedelic grooves and various interactive jams.

Johnny Dread, Sweetbone, The Baboons, The Nag Champayons, Teri Catlin, Nature's Fury, Ydiz, Warp9, UOM, Kuyayky, The Tribe, Rhythm Flow, Tamboka, The Int'l Language, Sound Healing Orchestra, Kiki Sanchez Trio with Othello Molineaux, Fresh Air, The Weeds, Fresh Air, Mr Grim Reapa, Orion, Ann Hoffman, Omine, Orrin Bolton, Steve Minotti, Deep Water Willy, Kazoots, JD Danner and more will be showcasing original music.

Alonso, Soulflower, Rebecca "Butterfly" Vaughns, Rio, Jonathan Rose and other spoken word artists will be presenting innovative spoken word poetry with musical accompaniment.

In addition, Elviza's Rockabelly Hippies featuring Elviza, Symphony, Stacy Oh, Sofia Luna, Alina and other dancers will be performing a variety of dance and movement pieces to energetic, rhythmic percussion and ambient tones.

Coconut Grove Jugglers Exchange will be juggling various items and entertaining the crowds with a festival vibe.

Lucky Bruno will be performing with a distinctive flair as a costumed stiltwalker.

Anastasia Sultzer will be showcasing a special marijuana activist video that will be projected during the show.

Plus Anibal Fernandez, Linx, Eva Ruiz, Alvaro Santamaria and other creative artists will be rendering a live painting demonstration to visually complement the music.

Irvin Rosenfeld and Elvy Musikka, legal medical marijuana patients and Directors for Patients Out Of Time, will be describing their experiences with obtaining medical marijuana through the federal government.

The 16th Annual Medical Marijuana Benefit Concert will also feature a selection of community speakers who will present information about the issues including South Miami City Commissioner Walter Harris, Ric Margolius - Senior Circuit Court Judge, Norm Kent - National NORML Chairman, Steven Machat - CMI Vibe Music, Michael Minardi P.A., Sara Yousuf - criminal defense lawyer, Dr. Jeffrey Kamlet - Addiction Specialist, Karen Goldstein - NORML of Florida, Jodi James - Cannabis Action Network, Robert Platshorn - The Silver Tour, Seth Hyman - Becca's Program, Omar Contreras - ACLU of Greater Miami, Jayne King - Florida Green Party, Eric Stevens & Sabrina Koramblym - United for Care, Angel Hernandez - Americans for Safe Access. Jeffrey Kennedy - I'm A Patient Not A Criminal and other concerned citizens.

NORML of Florida, United For Care, Patients Out Of Time, The Silver Tour, I'm a Patient Not a Criminal, The Florida Green Party and various other organizations will have informational booths with literature and handouts to help educate about community issues and the medical marijuana campaign in Florida.
                                                
The event will work to raise funds and awareness for NORML of Florida, The Silver Tour, Patients Out of Time and the United For Care medical marijuana campaign to protect patients' rights.  Previously, a person's right to use medical necessity as a defense to marijuana charges has been upheld by several appeals courts in Florida. Marijuana has proven therapeutically useful in treating numerous medical conditions including muscle spasticity, arthritis, MS, and the nausea related to AIDS and cancer chemotherapy.  In 2010, the City of South Miami passed a resolution to support medical marijuana on a statewide and national level - this is the first city in Florida to endorse the issue - since then 2 other Florida municipalities have also passed similar resolutions.  Currently there is medical marijuana legislation prepared for this session in Florida.  There is also an active petition drive to show public support for medical marijuana in Florida.  At the moment, there are 20 states and Washington D.C. that have laws allowing marijuana to be used as medicine.

In addition there will be vendors and small businesses promoting and selling their merchandise, including The Wallflower Gallery, Moksha Boutique, Shamanic Harmonics, Brickell Smoke Shop, Progressive Rags, Photography Is Not A Crime, Not Fadeaway Tiedye and selected independent enterprises.

**** As a fundraiser, Ploppy Palace Productions, CMI Vibe Music and The Wheel Party have produced a compilation  CD for the cause - Legalize It! Vol. 1: It's Natural!  18 tracks of groovin' music available now at www.legalizepot.us or on iTunes https://itunes.apple.com/us/album/legalize-it!-its-natural/id745390408 - check it out! ****

Production support provided by Ploppy Palace Productions, 7th Circuit Productions and Modern Galaxy Films.

The 16th Annual Medical Marijuana Benefit Concert at Tobacco Road is currently looking for supportive sponsors and unique vendors to help to build up the community outreach and contribute to the cause.

The 16th Annual Medical Marijuana Benefit Concert at Tobacco Road is sponsored by Ploppy Palace Productions, NORML of Florida, Brickell Smoke Shop, SFGN, AcidFlyers, Moksha Family Arts Collective, Unity Is Change, The Wheel Party, Event Rhythm Management, The Wallflower Gallery and Artists for Community Evolution.
                
Saturday, January 11, 2014
5:00 p.m. – 3:00 a.m.
Tobacco Road
626 South Miami Ave., Brickell
305-374-1198
www.tobacco-road.com

21 Years Old + with ID
Admission is $ 12.

DISCOUNT Advance tickets available.

www.ploppypalace.com
www.facebook.com/ploppypalace

To donate to the campaign, please check out - GoFundMe:
www.gofundme.com/Normlfl

For more information, please email Ploppy Palace Productions at events@ploppypalace.com

PLEASE REPOST THIS MESSAGE AND SPREAD THE WORD!!

Ploppy Palace Productions & NORML of Florida present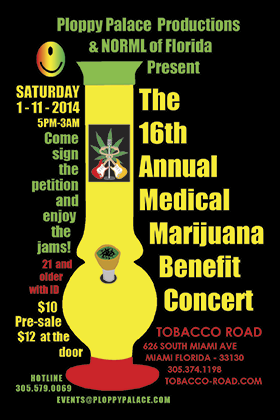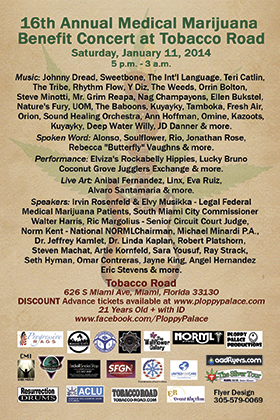 click image to enlarge
Donate Here
NORML of Florida set up the following site so that you could donate some money to the cause and to help put on the benefit. Your financial support does make an important difference. Together we can do this.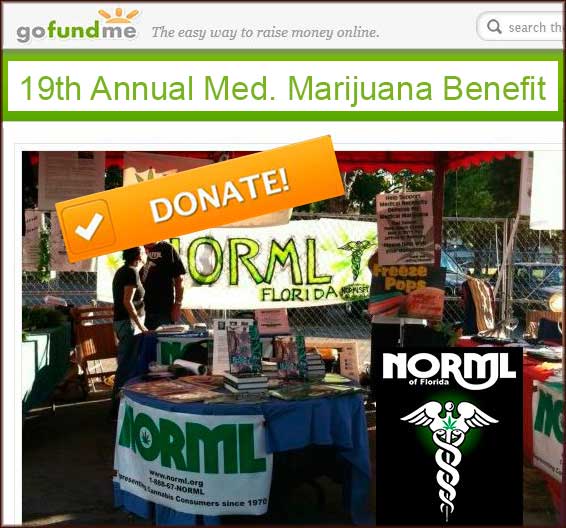 2014 Benefit - Sponsors
Please check out our sponsors by clicking their logo below:
Flyer Design 305-579-0069
Cannabis Laws by State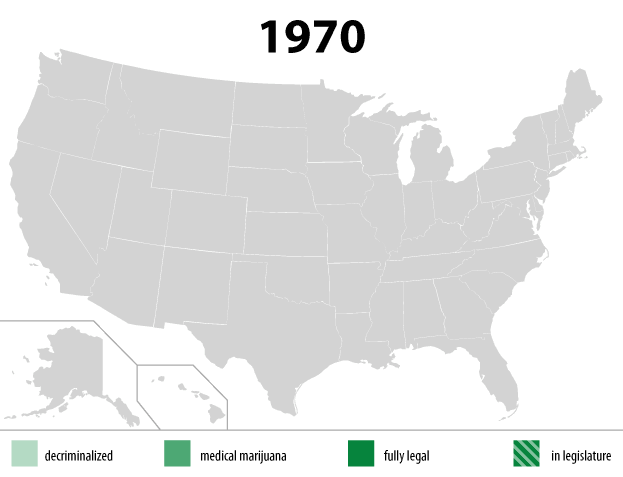 Dr Sanjay Gupta's CNN Special "WEED"
Dr. Sanjay Gupta's epic change of heart regarding medical cannabis is a momentous occasion for all of us who know the truth about cannabis. For him to publicly admit he was wrong and that we the people have been systematically lied to by the government regarding cannabis is a huge step towards awakening the masses. Education is the key to winning this battle. We have the facts on our side, we just need to share them with as many people as possible.
Some Highlights of the 14th Annual Benefit
Here is a video with some highlights of the 14th Annual Medical Marijuana Benefit Concert - it has some great excerpts of music, speakers and performances. You can catch some of the cool energy at the event as well. Linx did a great job with the recording and the editing! Share the video, so other people see it.
Contact Linx at his Facebook page.
Flash recommends visiting the following websites: